Latest Company News
Mi Broadcast Supplies Ereca Cam Racers and Stage Racers to Procam Projects
Broadcast fibre specialist Mi Broadcast is pleased to announce the supply of 13 Ereca Cam Racers and 5 Stage Racers to Procam Projects, a division of Procam, the UK's largest digital cinematography and broadcast hire firm. Procam Projects plans, supports and executes large-scale productions in collaboration with some of the UK's top production companies

Cam Racer is the most advanced fibre optic camera control system available. It is the first system to provide two 12G-SDI and two 3G-SDI video paths from camera to base making it suitable for use on Procam's entire fleet of cameras. Other features include internal audio mixer for talent headsets and internal web browser for signal control and set up

"This investment enables us to deliver a multicamera Cine style shoot and to continue to push the boundaries in future 4K cine music/fixed rig/entertainment productions. We can now offer a live cine workflow to any production" commented Group Technical Director, Dan Studley.
Stage Racer is an ultra flexible multi signal broadcast fibre link. The 1U 19" frame can transport 12 3G/HD-SDI videos, 16 audios each way, Gbit data, MADI, bidi AES3 (Riedel panels), Genlock, GPIOs and serial data, thus streamlining Procam productions with quicker rig time and allowing the coverage of longer distances between camera and gallery. A key feature of Stage Racer is the ability to change, "on the fly", the direction of individual 3G/HD-SDI channels via the internal web browser.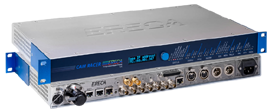 "Procam Projects is constantly looking at emerging technologies and will invest where appropriate to provide our clients with innovative solutions. We worked with Mi Broadcast to invest in newer technology that facilitates up to 4K" added Studley. Procam's investment included SMPTE 311 camera cable and tactical fibre cable with Neutrik QUAD connectors supplied and manufactured by Mi Broadcast's sister company, Fibre4TV Ltd.
WE HAVE MOVED
MI BROADCAST HAS RELOCATED TO NEW PREMISES
OUR NEW ADDRESS IS UNIT 18 ORCHARD ROAD, ROYSTON, HERTS, SG8 5HD
Telephone number is unchanged. 01223 411625


HDX Plus from Grass Valley
The new generation HDX Plus enables the latest 4K cameras from Grass Valley and Sony to be operated over dark fibre whilst extending their range of operation.

HDX Plus allows you to extend the distance between the camera's CCU and HDX Plus over fiber, and supply power from the HDX Plus over SMPTE hybrid cable to the camera. The HDX Plus is compatible with Grass Valley's LDX range of cameras and Sony HDC 4300 cameras.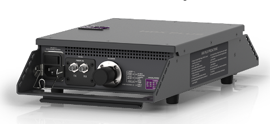 HDX Plus is compatible with Shed-BS when SMPTE power is required to be eliminated and converted to a fiber-only connection from CCU to HDX Plus. The range of operation has been increased providing full power to the camera head up to 3Km from the HDX Plus.

Typical applications include golf, skiing and productions where the distance is too great or only dark fibre is available.

MIBs hire dept has recently taken delivery of 5 HDX Plus units, extending its holding of HD and 4K broadcast fibre optic links.
Latest Product News
PanBox
Now available to hire or buy, PanBox is a field deployable throw-down fibre optic transceiver that converts SD, HD or 3G video signals to one core (2+1 version) or 2 cores (4+2 version) of singlemode fibre cable.
TruckLink Upgrades
TruckLink is a general purpose portable broadcast link for the transport of video, audio and data over field deployable tactical fibre optic cable. With Telecast electronics at its heart it can be seen a successor to the popular "Viper" with many additional features and at a lower price point.

Recent enhancements - The current version now uses just 2 fibre cores whilst offering an extra 3G HD-SDI, making 6 in total. This means systems can be fitted with Neutrik DUOs or Lemo 3K.93C and have the full complement of signals.
For rack mount applications a new 1U 19" base unit is available with comprehensive signal monitoring on the front panel and for critical applications internal battery backup is now available as an option.

Click on the image above or see what else do on the products page.